Alfa Romeo Racing ORLEN Adds Guanyu Zhou To Its Driver Lineup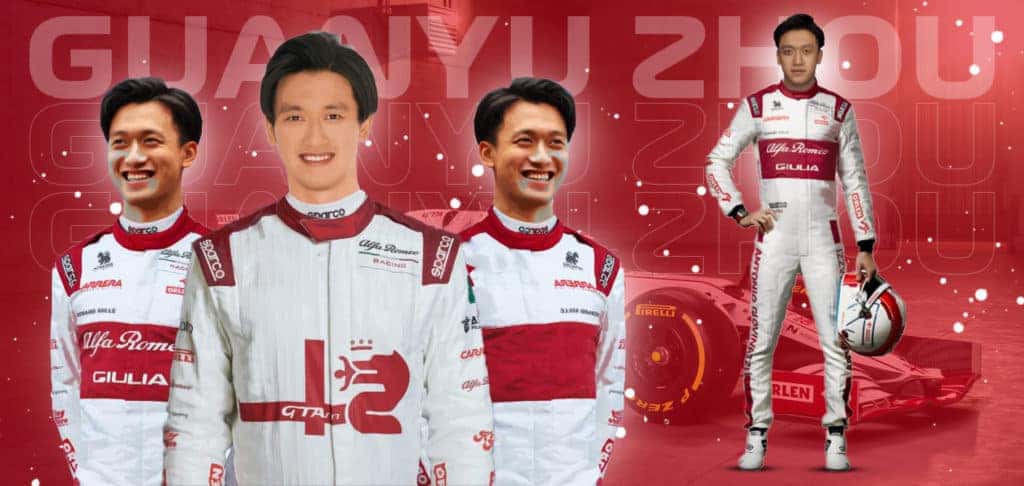 Photo credit: Alfa Romeo
Alfa Romeo Racing ORLEN will receive an injection of talent as Guanyu Zhou joins the team on the track. The Chinese native has earned multiple wins in the FIA F2 Championship. Now, he will make his F1 debut in the grid for next season's opener in Bahrain and hopes to bring his enthusiastic energy to the race. Not only is he young, but he is also the first-ever Formula One race driver from China ever. The pressure is on and Zhou is ready to conquer and represent his country. Joining Zhou in the tough competition will be Valtteri Bottas, the other newest member of the Alfa Romeo Racing ORLEN Team.
The Alfa Romeo Racing ORLEN Team consists of the best drivers in the world, Zhou's arrival will help them achieve the wins they have needed having an experienced driver is half of winning a race. Zhou's partner on the grid Valtteri Bottas recently arrived on the team this past September. Valtteri Bottas was born in Nastola, Finland, on August 28th, 1989, he made a name for himself in junior formulas. Bottas was the second driver to win both the Formula Renault Eurocup and the Formula Renault Northern European Cup in the same year, 2008. Continuing his promising career he went on to win the Masters of Formula 3 in both 2009 and 2010, the first in history to achieve this double win.
Bottas continued to progress and received a promotion to the GP3 series where he would win four races and claim the title, proving his readiness for the biggest stage of motorsport in the world. The two drivers will soon engage in the F1 Grid for next year's opener in Bahrain, Alfa Romeo has an extensive heritage and tradition when it comes to both F1 Race cars and passenger vehicles. Committed to manufacturing nothing but the best performance available in the world. Alfa Romeo's engineers take pride in every vehicle in its line up, soon an all-new addition will be joining the family. The 2022 Tonale will be Alfa's first plug-in hybrid SUV ever pushing the brand in a new direction for the next generation.
The 2022 Tonale features a plug-in-hybrid with a rear-mounted turbocharged 1.3-liter four-cylinder engine combined with a 243KW electric motor. The combination will produce an output of 240 horsepower, the automaker has yet to announce if the Tonale will adopt some type of high-performance trim. As the Tonale will be released only in a rear-wheel-drive trim, Alfa has hinted at a forward-wheel-drive with a dual-motor that could set performance above all of the competition in its segment. The SUV was recently spotted on the road in a full camouflage covering the full look of the 2022 Tonale. Interested in finding out more about the 2022 Tonale plug-in hybrid SUV?
Come to Southern Alfa Romeo to test-drive a new vehicle today!
Are you excited about getting a new car? So are we! At Southern Alfa Romeo of Norfolk, we're more than excited to help our customers, we're thrilled. Looking for a new option to buy or lease? Take a look at our newest vehicle inventory or our quality pre-owned vehicles. We can help sell your current vehicle or bring it back to life like new with an online appointment at our service center. Allow our professional techs to get started on all repairs or maintenance work.
Looking for options with any financial help, needs, or suggestions to help make paying for a vehicle easier? Apply for Auto financing. Stop by today and see what we can do for you at Southern Alfa Romeo of Norfolk right now.