Alfa Romeo "La Metamorfosi" Introduces The All-New 2023 Alfa Romeo Tonale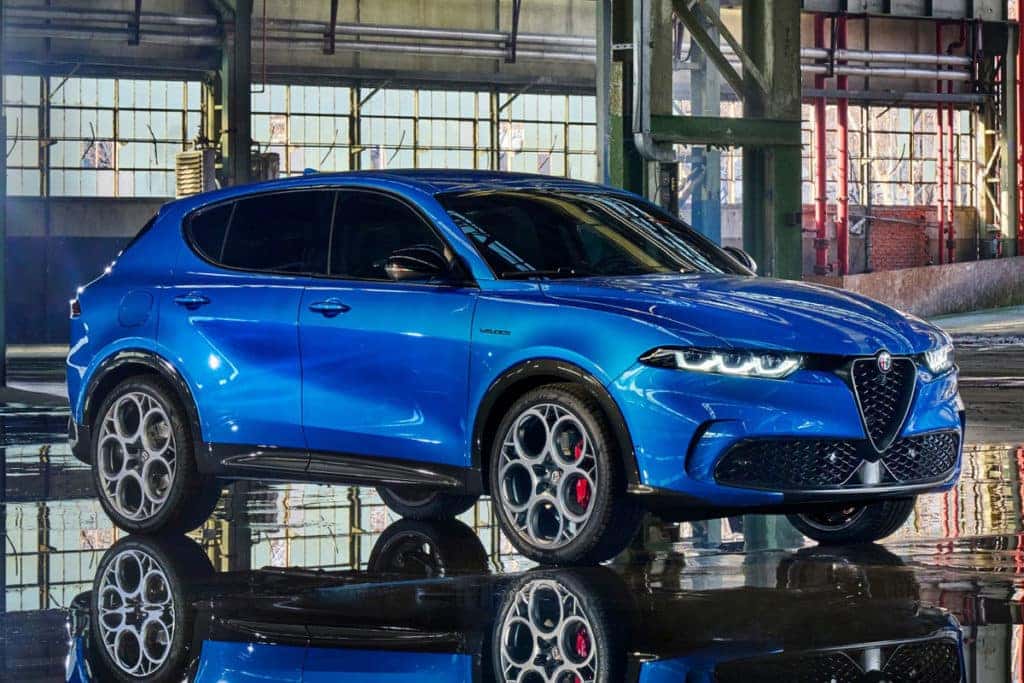 Photo credit: Alfa Romeo
The All-New 2023 Alfa Romeo Tonale is making its global debut as the brand transitions to an electrified product line, this is the model that marks the brand's metamorphosis. There is no denying that Alfa Romeo has stayed true to its DNA of noble Italian sportsmanship since 1910, and the Tonale will be considered as a radical evolution but remaining loyal to its race-inspired DNA (dual power/dynamic, natural, advanced efficiency) as it looks ahead to a new generation of luxury, electrification, and connectivity.
The 2023 Tonale will be a gas-electric hybrid, which will set its fuel economy at about 31 mpg. Alfa plans to equip the 2023 Tonale with a rear-mounted 243 KW electric motor to assist an internal 1.3-liter turbocharged four-cylinder combustion engine. The high voltage belt starter generator will be mounted to the engine which will deliver torque to the crankshaft into smooth transitions during any driving conditions. Equipped with a twin-scroll, low inertia turbocharger, direct fuel injection, and engine stop-start technology, the Tonale is packed with the brand's iconic dynamic performance and drivability.
"Here is our new ALFA ROMEO Tonale. It looks great, doesn't it? The Tonale is a very important milestone for our brand because of two reasons: it is our first compact SUV but also it is the first electrified car in ALFA ROMEO's history" said the Head of Alfa Romeo Design, Alejandro Mesonero-Romanos.
It represents the first step of an amazing story that starts here today: the story of taking Alfa Romeo into the future of electrification. A future that looks very exciting. Why? Simple because Alfa Romeo's are created by passionate people and talented engineers combined with creative designers who love cars and who are convinced that cars are and will always be, emotional means of transportation. Whenever you look back at Alfa Romeo's history or even look into their present, you'll realize that Alfa Romeo is designed with a sense of purpose. This means that they have an intimate relationship between body and soul, between beauty and functionality. Aerodynamics, ergonomics, and other functional important aspects of any car have always been dressed with Alfa's Italian heritage and amazing interiors.
"This is what at ALFA ROMEO, we call "Essential Beauty", and this is precisely the way the Tonale looks. I believe that ALFA ROMEO's have a kind of mechanical nobleness. They are conceived with a passion for driving in mind", said by Alejandro Mesonero-Romanos.
The All-New 2023 Tonale has distinctive, sensual, and forward-looking designs for the dynamic customer with its uniqueness of Italian design and contemporary style typical of Alfa Romeo. The interior is focused on the driver with all the controls for easy access to provide a safe unparalleled driving experience and the same is prearranged for the passengers as Alfa Romeo automakers provided the ideal space to travel in comfort. The 2023 Tonale's cabin is tidy and sporty, everything is just in the right place, it feels like an adjusted glove in your hand. Inside the Tonale, you will be immersed in a world of exclusivity, good taste, and elegance because of the materials chosen by the designers but also by the high level of quality achieved by Alfa Romeo production in Pomigliano d'Arco, which is the plant where the Tonale is being manufactured.
As you will discover by yourself when you have the opportunity to drive our new 2023 Tonale. The plug-in hybrid is a very agile, nimble, and sporty car. The automaker designers have succeeded in translating those qualities into sheet metal. The SUV breathes "ALFA-ness" from every angle. Yet again, Alfa Romeo has created another great car. Tonale is visually powerful, emotionally elegant, and above all, it shows how the design will bring the Alfa Romeo spirit into the future. Interested in finding out more about the 2023 Tonale?
Come To Southern Alfa Romeo To Test-Drive A New Alfa Romeo today!
We're all about helping our customers enjoy their shopping experience. We have a friendly and passionate sales team that will make your buying, leasing, or selling needs easy for any of our newest vehicle inventory. We're here to help with any financial help, needs, or suggestions to help make paying for a vehicle easier. Apply for Auto financing with our assistance right now. Stop by today and see what we can do for you right now at Southern Alfa Romeo of Norfolk.
Don't forget we have a trained service team that can help with an online appointment to get started on all maintenance work and repairs. We look forward to assisting you at Southern Alfa Romeo of Norfolk.