Alfa Romeo Joins The Elite Garage of The Dubai Police Department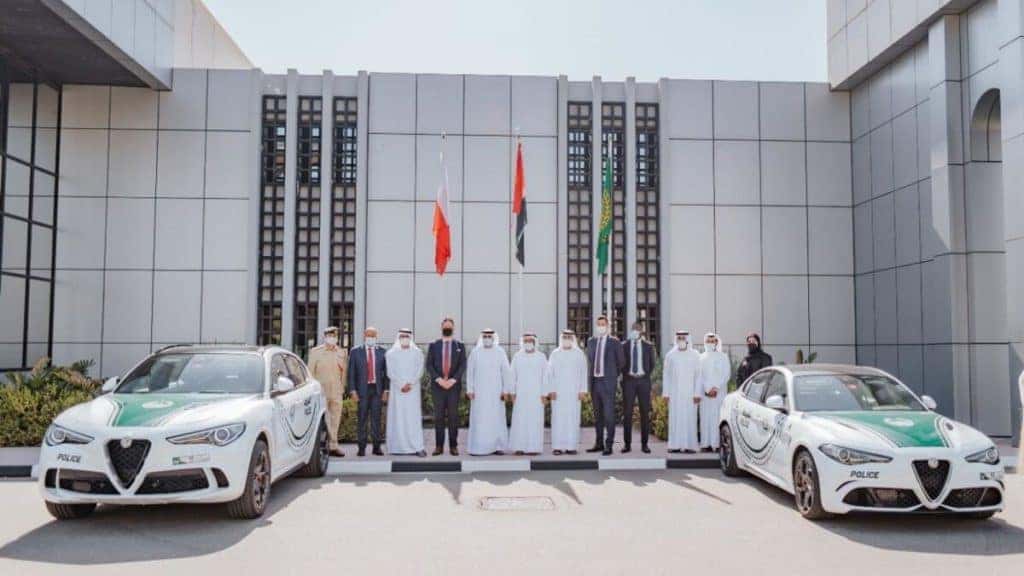 Photo credit: Alfa Romeo
Alfa Romeo is joining the elite force of the Dubai Police department. The 2021 Alfa Romeo Giulia Quadrifoglio is considered the fastest mass-produced five-seater vehicle in the world. The automaker's 2021 Stelvio SUV Quadrifoglio holds the world record for the fastest SUV lap to cover the Nurburgring circuit. The two vehicles have both offered top-of-the-line performance since they first debuted, year after year winning best-in-class in various segments. Dubai Police has the most expensive garage known to man, carrying some of the world's elite supercars.
The two vehicles will join in on crime-fighting making sure they can catch up to any vehicle pursuit. While the 2021 Giulia Quadrifoglio and 2021 Stelvio may not be the most expensive vehicles in the Dubai police department, they sure bring top-of-the-line-performance. Rumors have spread that the department is also trying to get ahold of the popular 2021 Giulia GTA which not easy to come by these days. The Giulia GTA is capable of going from 0-60 in just 3.6 seconds, powered by an enhanced version of the aluminum 2.9-liter V6 Bi-Turbo engine pumping 540 horsepower. Let's take a look at the two vehicles joining the Dubai Poilce force.
All Standard 2021 Stelvio models come with Alfa Romeo's 2.0L Direct-Injection Turbo Four-Cylinder engine under the hood. Compact in design, it delivers amazing responsiveness and performance, paired to an eight-speed automatic 8HP50 transmission that operates in eight gears for excellent performance in all conditions. Alfa Romeo's engine was awarded Best-In-Class but it didn't stop there, generating 280 horsepower with 306 lb-ft the Stelvio reaches a top speed of 144 mph and goes from 0-60 in just 5.5 seconds which were all awarded Best-In-Class too.
The 2021 Alfa Romeo Giulia has a powerful 2.0-liter turbocharged four-cylinder that produces 280 horsepower, and 306 lb-ft of torque. Alfa Romeo has continued to demonstrate how efficient their performance is winning various Best-in-class awards. Included was Best-in-class Standard horsepower at 280, Standard lb-ft of torque with 306, Standard MPH top speed of 149, and finally Standard seconds 0-60 Time with a quick 5.1 seconds. The 2021 Giulia allows buyers to control the performance and power of the Giulia using a simple instrument, with three options including Dynamic, Natural, and Advanced Efficiency drive modes using the DNA drive mode selector. Alfa Romeo includes State-of-the-art features such as carbon fiber driveshaft contributing to its near-perfect 50/50 weight distribution for perfect handling.
Come to Southern Alfa Romeo to test-drive a new vehicle today!
At Southern Alfa Romeo, we're more than excited to help our customers and we have the right staff to make it happen. Searching for a new option to buy or lease? Take a look at our newest vehicle inventory or our quality pre-owned vehicles. We can help sell your current vehicle or bring it back to life like new with an online appointment to our service center. Allow our professional techs to get started on all repairs or maintenance work.
We're here to help with any financial help, needs, or suggestions to help make paying for a vehicle easier, Apply for Auto financing. Reach out to us and see what we can do for you today at Southern Alfa Romeo.