Alfa Romeo Grants 33 Lucky Customers A Final Special Edition 4C Spider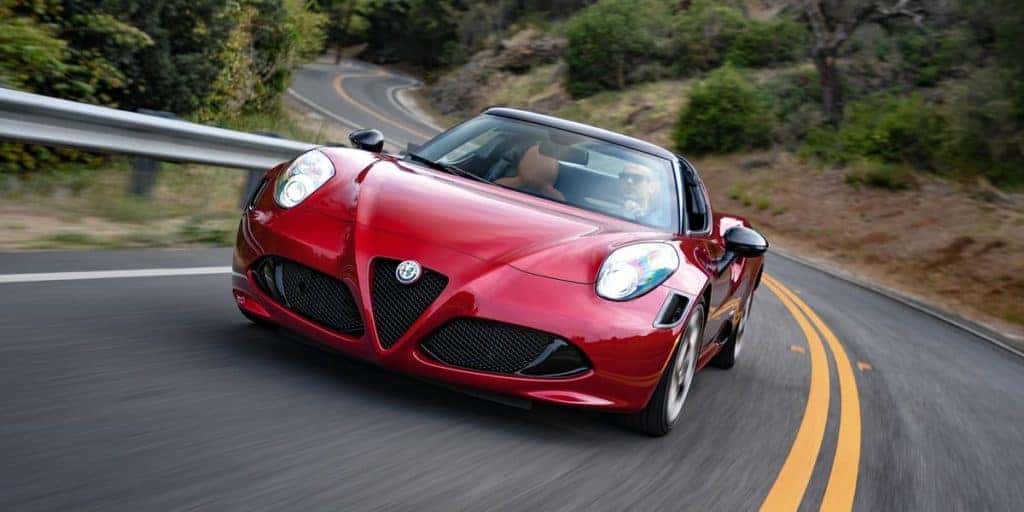 Photo credit: Alfa Romeo
Alfa Romeo has led the world with some of the most luxurious vehicles packed with top-of-the-line performance and technology. Unfortunately, Alfa Romeo is saying farewell to its sleek 4C model which debuted back in 2014. Due to the devastating news that stunned Alfa fans everywhere, Alfa Romeo has announced a 4C Spider 33 Stradale Tributo special edition trim, intending on manufacturing 33 limited-edition 4C spider Stradale Tributo units available in North America. It's gorgeous and works as a fitting send-off to the mid-engine sports car that started Alfa Romeo's return to North America.
"Since its introduction in 2014, the 4C has been a halo vehicle for Alfa Romeo, exciting enthusiasts around the world and spearheading the relaunch of the brand in North America, the 4C Spider 33 Stradale Tributo is an instant Alfa Romeo classic that passes the torch to the next generation of iconic Alfa Romeo vehicles, including the upcoming Tonale PHEV crossover that will start production next year", said Tim Kuniskis Global Head of Alfa Romeo
The Beginning of the 33 Stradale
The 1967 33 Stradale is an iconic Alfa Romeo that made its public debut at the Monza circuit on August 31, 1967, on the eve of the 1967 Formula One Italian Grand Prix. Handcrafted in Modena, Italy, the 4C Spider 33 Stradale Tributo honors the 1967 Alfa Romeo 33 Stradale, the brand's legendary mid-engine sports car. The 4C Spider 33 Stradale Tributo is completed in a unique, exclusive Rosso Villa d'Este tri-coat paint inspired by the original. Rolling off the assembly line standard with carbon-fiber trim, aerodynamic curves, and Italian flag mirror caps. Finishing it off with limited-edition plaques on the dash, door sills, and center console personalizing each unit. Paired with gray-gold 5-hole alloy wheels (18-inch front/19-inch rear) and composite sports seats covered in black Dinamica® suede and tobacco (brown) leather.
Sending The 4C Off The Right Way
The 4C Spider 33 Stradale Tributo's superior technologies incorporate a 6-speed Alfa twin-clutch transmission and all-aluminum 1750cc turbocharged engine with direct-injection, dual intercoolers, and variable-valve timing to create the perfect performance vehicle. Sprinting off the starting line with 237 horsepower and 258 lb-ft of torque. Achieving 0-60 mph in 4.1 seconds and a top speed of 160mph. Delivering a near-perfect power-to-weight ratio of 10.4lb/hp. Alfa Romeo intends to add typically optional extras as standard for this limited-edition car. Beginning with a race-tuned suspension, Akrapovic dual-mode center-mounted exhaust,bi-xenon headlamps, rear wing,carbon-fiber halo, and much more. Pricing starts at $81,590 MSRP ( Plus destination fee). When you pick up your 4C Spider 33 Stradale Tributo, Alfa will also present you with a matching and numbered history book that tells the story of the 4C concept and its journey to production, and new technology. Interested in driving a new Alfa Romeo Today? Come Visit us at Southern Alfa Romeo and let us help you find the perfect fit.
Come To Southern Alfa Romeo To Test-Drive A New Alfa Romeo today!
Are you excited about getting a new car? So are we! At Southern Alfa Romeo of Norfolk, we're more than excited to help our customers, we're thrilled. Looking for a new option to buy or lease? Take a look at our newest vehicle inventory or our quality pre-owned vehicles. We can help sell your current vehicle or bring it back to life like new with an online appointment at our service center. Allow our professional techs to get started on all repairs or maintenance work.
Looking for options with any financial help, needs, or suggestions to help make paying for a vehicle easier? Apply for Auto financing. Stop by today and see what we can do for you at Southern Alfa Romeo of Norfolk right now.