Alfa Romeo Explores Passione to Celebrates Valentines Day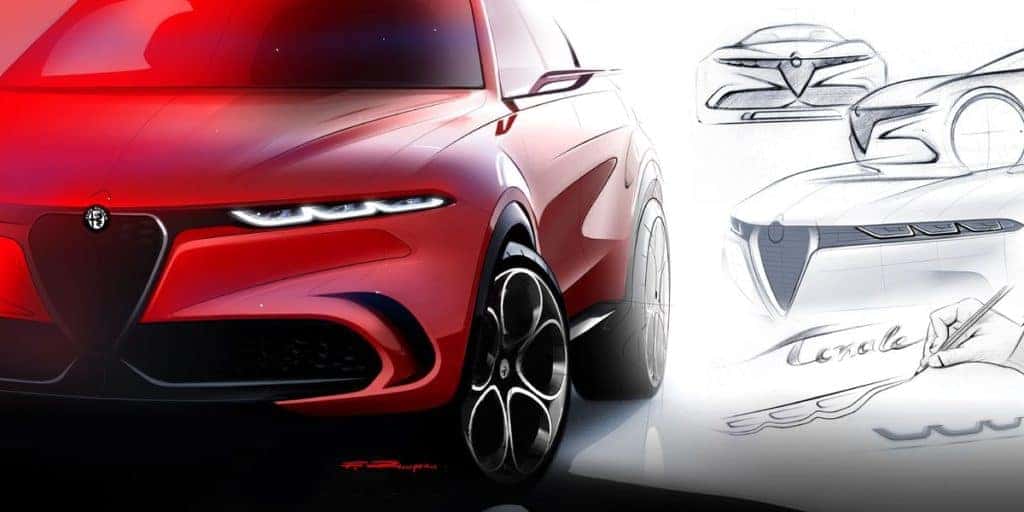 Photo credit: Alfa Romeo
Alfa Romeo celebrates its 110th anniversary with its e-book named Passione, an interactive e-book that explores the automaker's heritage, influences, and the brand's passion for its iconic Italian design. Passione created in partnership with Centro Stile Alfa Romeo in Turin, Italy, the book examines the brand's history and significance in global automotive design. Including exclusive renderings and one-of-a-kind sketches from the designers at Centro Stile. From beginning to end Alfa begins at its original name Anonima Lombarda Fabbrica Automobili that eventually was shortened to Alfa and ending with the latest 2021 Tonale SUV with maximum luxury. Let's explore a little more about what the book breaks down.
A breakdown of the chapters of Passione
Centro Stile

– Founded in 1971 and based in Turin, Centro Stile oversees design for Alfa Romeo.

Italian roots

– From Roman architecture, Renaissance painting, or modern art, Alfa Romeo's Italian roots run deep, influencing the brand's design to this day.

Heritage

– Alfa Romeo leverages its illustrious past to inspire the designs of today and tomorrow. Cues from legendary cars such as the 33 Stradale and Giulia GT can be seen on the modern 4C Spider and Tonale PHEV crossover concept.

Purity

– Great Italian design is pure and honest, untainted by excess or extravagance. Purity is what makes Italian design timeless.

Disruption

– Throughout its history Alfa Romeo design set trends, broke norms, and shocked the world with pioneering designs.

Red

– The color of Italy. The color of Alfa Romeo. Red is a symbol of Italian culture and a hallmark of Alfa Romeo's most iconic models.

Beauty is everywhere

– From exotic vehicles such as the 4C Spider and 8C Competizione to mainstream sedans, crossovers, and compact hatchbacks, Alfa Romeo models embody timeless beauty.

Beauty and the beast

– Elegance meets strength. Style dresses speed. Alfa Romeo's design speaks to both power and performance.

Design melting pot

– Bertone, Pininfarina, Zagato, to name a few. While most Italian car companies have partnered with one or two coachbuilders over time, Alfa Romeo has collaborated with several, creating a diverse catalog of iconic designs.

Exploration

– From the upcoming Tonale PHEV crossover concept to beyond, this chapter highlights Alfa Romeo's passion for exploring new territories.
Throughout Passione's 100 pages, art and inspiration influence all of Alfa Romeo's vehicles. The book comes with plenty of information for Alfisti, what Alfa Romeo enthusiasts are described as to enjoy and soak in. Alfa Romeo has designed and crafted some of the most stylish sporty cars in automotive history. Keeping the tradition alive today, Alfa continues to take a unique and innovative approach delivering race-inspired performance and advanced technology. Combined to create an exhilarating driving experience for the premium midsize sedan and SUV.
A look into Centro Stile de Alfa Romeo
The Centro Stile Alfa Romeo is the automaker in-house design and construction office. Founded in 1990, after Fiat Alfa Romeo took over, the car manufacturer management was transferred to Turin, where Fiat's headquarters are currently located. Although Centro Stile Alfa Romeo is independent again today, the designers continue to report to the so-called Officina 83, the main design center of the Fiat Group. The designers had created a total of 145 models in-house that were ready for market by 2014. While the work continues the new designs for Alfa's 2021 Tonale SUV packed with technology and made for comfort the five-seater vehicle is set to come out in September of this year and is highly anticipated. Want to get into a new Alfa Romeo? Check with us first at Southern!
Come To Southern Alfa Romeo To Test-Drive New Alfa Romeo today!
We're all about helping our customers enjoy their shopping experience. We have a friendly and passionate sales team that will make your buying, leasing or selling needs easy for any of our newest vehicle inventory. We're here to help with any financial help, needs, or suggestions to help make paying for a vehicle easier. Apply for Auto financing with our assistance right now. Stop by today and see what we can do for you right now at Southern Alfa Romeo of Norfolk.
Don't forget we have a trained service team that can help with an online appointment to get started on all maintenance work and repairs. We look forward to helping you at Southern Alfa Romeo of Norfolk.